As one of the largest music festivals throughout Southern California, the Korean Music Festival's one of a kind program brings to our patrons only the most noted artists of Korea to celebrate the lives of Korean Americans of all generations. Each year, the Festival surpasses all expectations and records as it takes root as a Korean American tradition.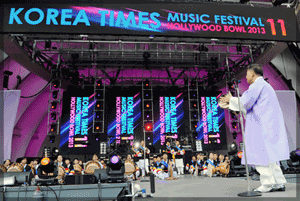 The inaugural concert in 2003 featured more than 18 top-tiered artists from Korea, and aroused overwhelming encouragement and anticipation from the community. With such attention, the inaugural concert successfully opened to a sold-out show, selling out 18,000 seats in a mere 14 days.
As a single concert, it is the largest in its scale, demonstrating a cohesive marketing effort that had never been tested in major venues. With enormous support from corporate sponsors and the community, the Korean Music Festival at the Hollywood Bowl continues to gain indisputable popularity and reputation as it records a sellout every year.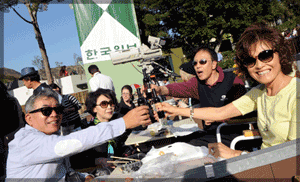 The Korean Music Festival is held at the world-famous Hollywood Bowl and attracts people not only from Southern California, but also from the rest of the nation and the world.
The Korean Music Festival at the Hollywood Bowl puts its patrons at the center of the Korean Wave that is sweeping across Asia. Globally renowned artists such as BoA and Rain have graced the stages of the Korean Music Festival to elevate it into an occasion enjoyed by Koreans and non-Koreans alike.