Ticket
Announcement
Contact

Korea Times Los Angeles

3731 Wilshire Blvd., 10th Floor,
Los Angeles, CA 90010

Tel :
(323) 692-2055
(323) 692-2187
(323) 692-2068
(323) 692-2070

Office Hours :

Monday-Friday: 9AM to 5PM
Saturday: 9AM to 12PM
Sunday: Closed
Guide For Newcomers
Musical Magic Under The Stars
In 2003, The Korea Times presented the first annual Korean Music Festival to celebrate the Centennial Anniversary of the Korean American immigration into the United States. Since then, the Korean Music Festival has acquired a loyal fan-base that return every year.
Each year, the Korea Music Festival invites only the most prestigious artists of Korea to celebrate the occasion.
The Korean Music Festival is a perfect night out for the whole family, as the event is not catered to a certain age group. The Korea Times is committed to bringing the community together and the Korean Music Festival is a perfect reflection of this commitment.
Each year the Festival is held at the world-famous Hollywood Bowl and attracts people from all over the United States and the world.
The night ends with a perfect note with fireworks coloring the sky.
How do I get to the Bowl?
The Bowl is located at 2301 North Highland Avenue, just off the Hollywood Freeway. (Area Map)
BOWL PARKING IS LIMITED. To assure yourself a more enjoyable experience, we highly recommend using one of the 14 Park & Ride locations or four Shuttle Bus lots. Find out more. If you do decide to drive yourself, please allow plenty of time before the concert begins.
What dining options do I have?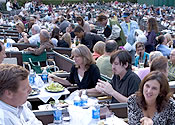 You may bring your own food and drink (details below) or purchase on site; options range from a gourmet restaurant to concession stands, all managed by the Patina Group. You can even order dinner in advance to be served at your box.
For more information on dining options: here
Exactly what food and drink you can bring depends on the type of event: Policies for lease events (concerts presented by other organizations).
You may eat at your seats (whether box seats, SuperSeats, or bench seats) or at one of the picnic areas scattered around the grounds. Come early because picnic benches are popular!
What should I wear?
People wear whatever they find comfortable (but no bare feet, please!). Be aware that it can become quite cool later in the evening, so it's a good idea to bring a blanket or an extra jacket.
What else do I need to know?
The Hollywood Bowl is near various hotels that can provide overnight accommodations for those who are traveling. Audience Services representatives are available to assist with all your Bowl-related questions, seven days a week, 10am to 6pm, at 323.850.2000. Detailed Theater Policy information can be found here.